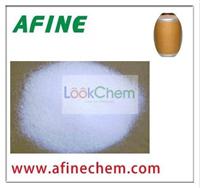 Keywords
Adipic acid
124-04-9
Adipic acid 99%
Quick Details
ProName: high purity Adipic acid cas no.124-...
CasNo: 124-04-9
Molecular Formula: C6H10O4
Appearance: white crystalline powder
Application: Raw material for pharmaceuticals, perf...
DeliveryTime: one week
PackAge: 1~1kg/foil bag; 1kg/tin ; 25kg/drum ; ...
Port: shanghai , hangzhou etc
ProductionCapacity: Metric Ton/Day
Purity: 99%min
Storage: Stored in closed containers in dry coo...
Transportation: Xi:Irritant HazardClass:9.2 by air;b...
LimitNum: 1 Gram
Shipping: Air/Sea
Superiority
our services
1. new molecules r&d
2. own test center hplc nmr gc lc-ms
3. api and intermediates from china reputed manufacturers
4. documents support coa moa msds dmf open part

our advantages
1. government awarded company. top 100 enterprises in hangzhou
2. quality warrant. if any quality failure. we 100% return the payment or replacement
3.more than 9 years experiences in pharmaceutical and chemical international trading
4.fast response on customers request and fast shipment
Details
company introduction
1. established in 2005, with two independent business divisions: fine chemicals division; pharmaceutical division.
a. "top 100 innovation-oriented export enterprises of hangzhou" honored by hangzhou government
b. specialized in the fine chemicals and pharmaceuticals
c. a leading manufacturer and trader of apis in china
2. main product:
optical brightener
textile auxiliary
dye stuff
pigments
pharmaceutical active ingredients
pharmaceutical intermediates
feed additives
3. company picture
product description
identification of 124-04-9
name:

adipic acid

einecs:

204-673-3

molecular formula:

c6h10o4

cas registry number:

124-04-9

synonyms:

fema no. 2011; adipic acid; hexane diacid; heptanedoic; 1, 4-butanedicarboxylic acid; adipinsaeure; hexan-1,6-dicarboxylate; kyselina adipova; inipol ds; hexanedioic acid; 1,4-butanedicarboxylic acid; adipate; hexanedioate; adilactetten; molten adipic acid; acifloctin; 1,6-hexanedioic acid; acinetten;

inchi:

inchi=1/c6h10o4/c7-5(8)3-1-2-4-6(9)10/h1-4h2,(h,7,8)(h,9,10)

hs code:

29171210

molecular structure:
chemical properties
appearance:

white crystalline powder.

molecular weight:

146.14

density:

1.36 g/cm3

boiling point:

337℃

melting point:

151-154℃(lit.)

flash point:

196℃

storage temperature:

keep away from sources of ignition. store in a tightly closed container. keep from contact with oxidizing materials. store in a cool, dry, well-ventilated area away from incompatible substances. keep away from strong bases.

refractive index:

1.439

solubility:

1.44 g/100 ml (15℃) in water
methanol: 0.1 g/ml, clear, colorless

stability:

stable. substances to be avoided include ammonia, strong oxidizing agents.

usage:

raw material for pharmaceuticals, perfume fixative.